March 15, 2021
In the summer of 2011, a few Catonsville residents met at the local library. They shared a passion for supporting local businesses and wanted to bring those products into their community. Eleven years later, that idea has blossomed into the Catonsville Cooperative (CO-OP) Market and Grocery, a market and community hub owned and operated by owner members of the community.
That initial meeting at the library was followed by subsequent enthusiastic meetings, resulting in the formation of an advisory board and steering committee. They started by introducing a CSA, allowing people to purchase basket of local food and produce on a weekly basis. Valerie Yingling, the Catonsville CO-OP market liaison and former board member, has been involved since those early days. She says that everyone was eager to pitch in, recalling, "One of our members had a refrigerator that she plugged in to her front porch and we would all wait on her front porch to pick up the cider for the CSA."
In 2015, the Catonsville CO-OP officially began operating its market out of Immanuel United Church of Christ, which provides the space to this day at minimal cost. The market offers fresh, local, organic, ethically sourced options. Member owners can shop for produce, prepared foods, dairy, and other products every other Tuesday from 4:30 – 8pm and every other Saturday from 9am – 12pm. The list of nearly 30 vendors includes Maryland favorites Taharka Brothers, Michele's Granola, Thread Coffee, Wild Kombucha, The Breadery, Broho Sauce Co., and Lor Tush, just to name a few.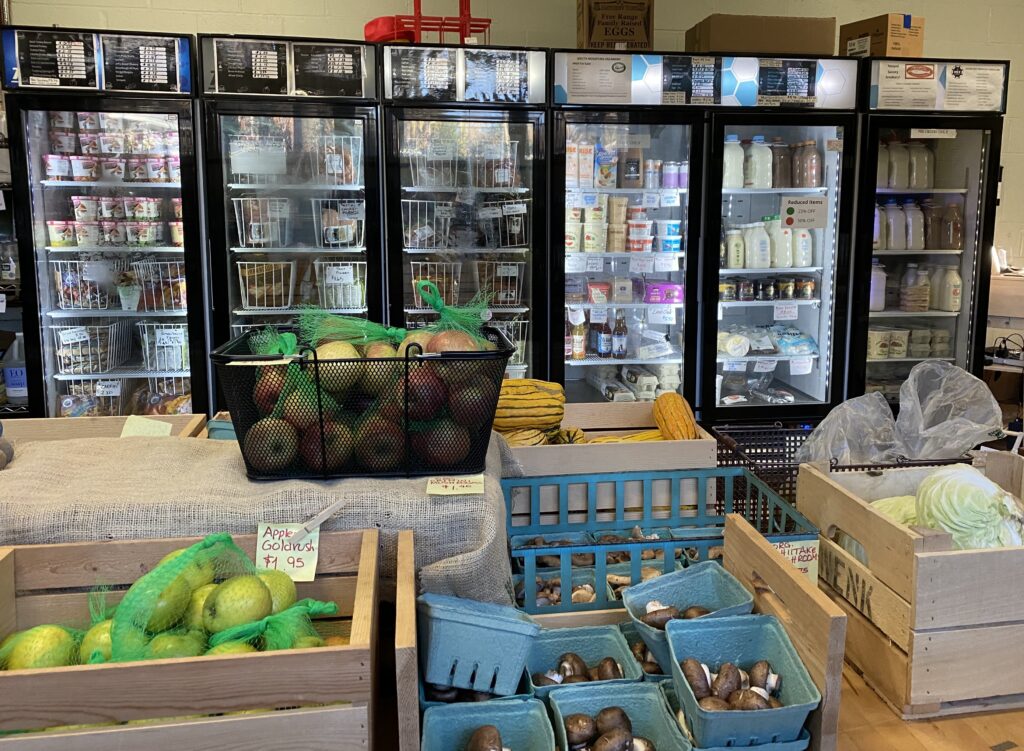 Neopol Smokery recently started selling its smoked foods at the CO-OP on Tuesday evenings as a supplement to fulfilling pre-orders. Their offerings include salmon, whitefish, egg, and shrimp salads; salmon and cheese pies; salmon fillets with a choice of toppings; tofu products; and dog biscuits (author's note: I'm obsessed with the salmon crepes and my dogs devour the dog biscuits). While co-owner Barbara Lahnstein recommends the pot pies, she says their best seller is the mussels. According to Barbara, "Even some people who don't eat mussels eat ours. They're smoky but the honey makes them a little sweet."
While there's something special about all of Neopol's locations (Belvedere Square and the Waverly and Fells Point farmers markets in Baltimore, plus others in DC and Virginia), being part of a unique community is what drew Neopol to the CO-OP. It's what draws Sherry Phillips to work at the Neopol stand at the CO-OP, saying, "I love what the CO-OP stands for. I love what living cooperatively means with a group of people who have the same mindset. I can connect and relate to that." Barbara has gotten to know the regulars so well that she can often anticipate what they're buying or make recommendations based on what they've gotten in the past. "We have such good relationships with our (customers). We touch all different types of people. You get to meet people from all walks of life who share a love of food," she says.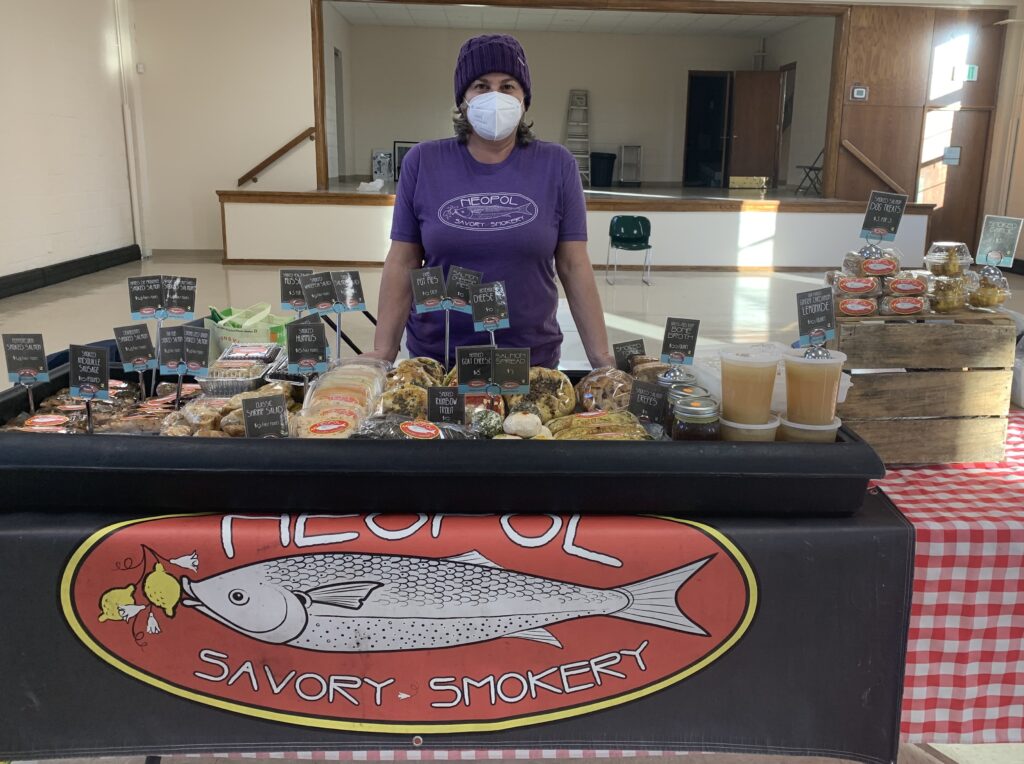 Julie Largay, the Catonsville CO-OP vendor manager and board president, agrees. She discovered the CO-OP in 2017 after she had just moved to Catonsville and was looking for a way to get to know her neighbors. She happened to see a bumper sticker advertising the CO-OP and thought, "I bet those are people I would have something in common with. And I did." Julie found solidarity with the tight-knight community and its values, and she has become an ardent supporter of the local vendors. She's not the only one. Valerie says, "People are invested in the CO-OP because they believe in cooperative ownership as opposed to paying a corporation that's out of the state or overseas. We're building some brand loyalty with our shoppers. They love seeing Neopol there."
Board members are doing everything they can to make member ownership attainable for anyone who wants it. A full lifetime membership costs $200, payable as either as a one-time payment or in four installments of $50 each. Another option is the worker equity option, which is a one-time payment of $25 and a commitment to volunteer for 15 hours within a year. The board is also piloting a "shop your way to membership," which involves paying $5 at every shopping experience until the amount reaches $200. Members get perks such as voting rights, pre-ordering options, discounts, and access to Frontier Co-Op's shop (of which Catonsville CO-OP is a member). Membership is not limited to Catonsville residents; in fact, some members make the trek from their homes in Fells Point, Dundalk, and beyond.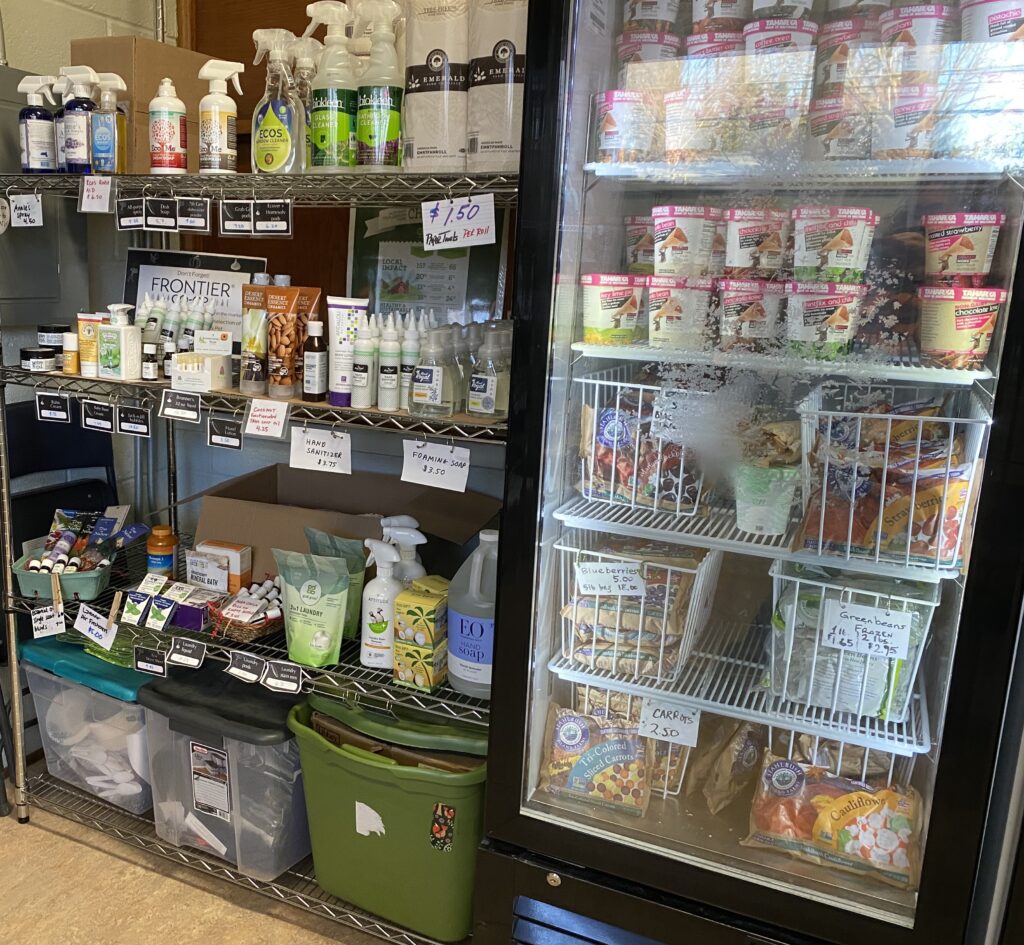 Volunteer members perform tasks that would be expected of any business; meeting delivery trucks, pricing items, bagging produce, stocking shelves, coordinating orders and deliveries. They also coordinate community events that are open to the public such as plant and seed swaps, a knitting club, a book club, and medicinal plant walks. Their most popular event is the annual Hometown Brew Down featuring a beer brewing competition, live music, vendors, and of course beer sampling – all in a neighbor's backyard. It's easy to understand why members and vendors have grown close and enjoy being together.
The board has high hopes for the future. They intend to eventually be able to provide dividends to owners based on how much they spend, and their vision is to open a grocery store with a storefront that's open daily. But all of this depends on more member owners signing up (currently there are over 360). Valerie encourages anyone who is interested to visit and decide for themselves. "People don't have to be a member to shop with us. They can drop in, check us out, ask questions. We want to meet the community where the community is right now. Times are really tough but our goal remains the same, to connect our community with really great local sustainable products."
The Catonsville CO-OP is located at 1905 Edmondson Avenue, Catonsville, MD, 21228. It is open every other Tuesday from 4:30 – 8pm and every other Saturday from 9am – 12pm as noted on their calendar.
Visit the Catonsville CO-OP's website or follow them on Instagram.
Follow Neopol Smokery's website or follow them on Facebook and Instagram.