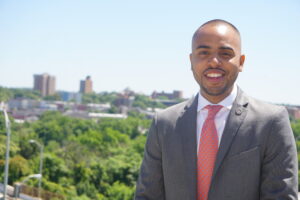 Alex Aaron always knew he would go into real estate. Growing up in Virginia, his father showed him how to manage the family's investment properties; as a teenager, he opted for a summer job as an administrative assistant at a real estate firm. Being immersed in the trade from an early age led Alex to become the founder and CEO of his own Baltimore-based real estate firm, Blank Slate, which provides construction, development, and management services.
What differentiates Alex from other real estate developers is his motivation to transform blighted neighborhoods to meet the needs of the existing residents. After studying finance at Howard University, working on Wall Street, and traveling overseas, Alex decided to focus on redeveloping Baltimore's underserved neighborhoods. He moved to Baltimore, met with neighborhood associations and leaders, attended local events, researched development opportunities, and eventually co-founded Chase Street Partners to rehabilitate properties in the city. He knew BCL was a perfect fit to finance Chase Street Partners' first project on N. Broadway after discovering the CDFI at an event about the city's Vacants to Value program. BCL has continued to finance many of Alex's projects to this day.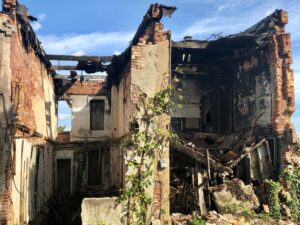 Now the CEO of Blank Slate, Alex is expanding his impact and takes his role seriously. He knows that many Baltimoreans have been negatively impacted by real estate developers who seek to profit off of the displacement and mistreatment of residents. He explains, "I'm committed to being a revitalizer, not a gentrifier. I try to put myself in their shoes and meet them where they're at." He points to the company's most recently completed rehab on the 1400 block of N. Bethel Street, financed by Baltimore Community Lending, as an example. Alex discovered the run-down block, which had fourteen vacant properties and only one occupied property, while working on another project and knew he could restore it to its full potential. He met with the Oliver Community Association, Meraki Community Uplift (a nonprofit that supports the neighborhood), and community leaders to get their input and feedback before beginning the project. The community gave their blessing on the conditions that Blank Slate maintain the existing size of two of the units to make them more affordable; that they not build on the garden operated by Meraki Community Uplift; and that they not pressure the owner of the occupied property to leave. Alex not only honored these requests; he secured a grant for the property owner to receive new doors and windows, fencing, and upgrades to the façade of the home.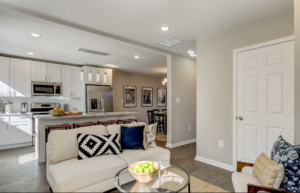 Blank Slate has grown in a few short years to offer renovation, construction management, and pre-construction services, and recently opened an office on North Avenue. Baltimore Community Lending has financed $2.7 million of Alex's revitalization projects in Baltimore City to date. Dierdra Pressley, the loan officer who has assisted Blank Slate with their loans, explains why BCL continues to support his ventures. "When Alex came to BCL he was well versed in finance and project management. He also possessed a desire to revitalize Baltimore City's underserved communities, that matches our mission. We gave Alex a chance to prove his plan and evidence his capacity, which he has done time and time again."
---
And Alex is giving back. In early May, he surprised BCL with a donation of $2,500 to the organization that propelled him to where he is today. He also recently volunteered to serve on the host committee for BCL's Re-Imagining Baltimore event. According to Alex, "I would not be successful without BCL. Our values and vision are in alignment. Together we are encouraging people and building Baltimore."