Getting quality beauty supplies hasn't always been easy for Dinee Russell, a long-time resident of the Hampden neighborhood of Baltimore City. She frequently had to travel to big box stores outside of the city to buy shampoo, conditioner, edge control, and other products formulated for her hair texture. And some of those stores don't carry specialty items such as braiding hair, human hair, and wigs. Dinee is not alone; many Black and Latinx women live in neighborhoods in which these beauty supplies are hard to come by.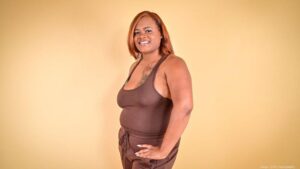 Dinee became determined to resolve this issue by opening her own store, Melinated Beauty, "to give people with melanated skin a place to shop for all of their beauty and cosmetic needs." In 2019, she enrolled in the Entrepreneur Academy sponsored by the Enoch Pratty Free Library and sought out a variety of mentors, all while working as a dental assistant. She was on her way to opening a storefront when the COVID-19 pandemic hit. Undeterred, Dinee invested her own money to launch a website and build a social media following. The company's solid sales and customer base gave her the confidence to open her storefront in the Rotunda shopping center, located in Hampden, as COVID-19 restrictions started easing up. It officially opened for business in July 2021 in part due to a loan from Baltimore Community Lending that covered rent, the security deposit, and inventory expenses. These funds were particularly necessary in order to fulfill minimum order amounts required by certain vendors; otherwise, Dinee would not have been able to sell certain high-demand items.
As a standard part of the loan process, BCL also provided Dinee with pro bono business coaching to help her develop a business plan and financial projections. Dinee says, "The loan helped tremendously. The whole process really helped me think, go deeper into what I was doing, and see how I could better prepare to open my business."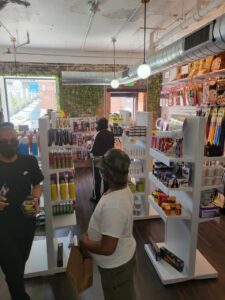 Melinated Beauty offers a variety of options for adults and children such as hair care products, wigs, bundles of hair, braiding hair, sunscreen, dyes, and beads. A full-service braider is available a few days a week so customers can get their hair done in a professional setting. Customers often discover the store as they're walking by on their way to one of the many shops, restaurants, and services in the shopping center. Sometimes they wander in during community events hosted by the Rotunda, such as outdoor movie nights or the farmers market. According to Dinee, "They're always surprised and happy to find out that we're here. Even if they don't buy something that day, they usually come back another time or tell someone they know." Many customers are neighborhood residents who can easily walk to the store.
You can visit the store at 711 W 40th Street in Baltimore, across from the parking garage in the Rotunda shopping center. You can also shop online at www.melinatedbeauty.com and choose to have your order shipped (free for orders over $50), delivered locally, or picked up in store (no cost).